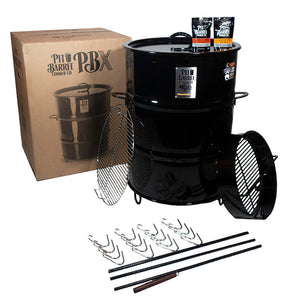 PitBarrel NZ
PIT BARREL PBX - 57cm
Sale price Price $1,299.00 Regular price Unit price / per
Tax included.
The wait is finally over!  We are proud to introduce the newest member of the Pit Barrel® lineup, the 22.5″ / 57cm PBX.
In addition to being perfect for large backyard cooks, the 57cm PBX takes the ease of use the 57cm Pit Barrel Cooker® has made famous to the next level.  The 57cm PBX will be right at home in a competition setting, catering for your large events, and even cooking for your restaurant.
It simply cooks some of the best food you've ever tasted, with no hassle, due to the 360º All-Round Heat Dynamics™. 
Whether you're new to outdoor cooking or an expert trying to perfect your craft, Pit Barrel® will guarantee perfectly cooked food every time. This large charcoal grill and smoker package includes everything you need to be ready to cook out of the box. All you need is to follow the instructions and lighting process based on the type of cook (grilling or smoking).
The 57cm PBX has a much larger capacity than the standard 47cm Pit Barrel Cooker® and is the largest porcelain coated drum cooker on the market.  Choose whether you want to cook 16-20 racks of ribs, 4 pork butts or shoulders, 4 full packer briskets, 12-16 chicken halves, 60+ party wings or 4 turkeys – the possibilities are endless.
The PBX includes everything you need to get cooking:
57cm Porcelain Coated Steel Drum
16 Stainless Steel Hooks
3 Steel Hanging Rods
Porcelain Coated Charcoal Basket
Standard Grill Grate
Wooden Hook Remover
3-Point Barrel Stand
Already own the 47cm Pit Barrel Cooker®? All accessories are interchangeable and will work perfectly with the 57cm  PBX, except Hinged Grate, Ash Pan, and Cover.
*Rubs pictured are not included