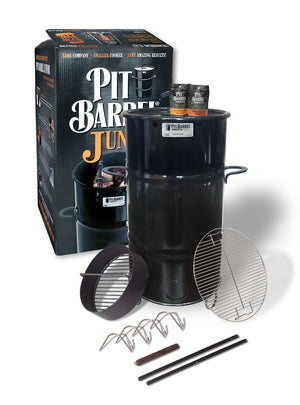 Pit Barrel Cooker NZ
14" PIT BARREL COOKER JUNIOR
Sale price Price $499.95 Regular price Unit price / per
Tax included.
In addition to being perfect for smaller, everyday cooks, the 14″ Pit Barrel Junior takes the portability of the 18.5″ Pit Barrel Cooker to the next level, fitting in just about any car, making it ideal for camping, tailgating, or wherever you may want to prepare amazing food. Hang brisket, brats, vegetables, ribs, and more. Then set-it & forget-it!
It simply cooks some of the best food you've ever tasted, with no hassle, due to the 360 All-Round Heat Dynamics
Whether you're new to outdoor cooking or an expert trying to perfect your craft, Pit Barrel® will guarantee perfectly cooked food every time. This package includes everything you need to be ready to cook out of the box. All you need is to follow the instructions and lighting process based on the type of cook (grilling or smoking). 
Though the 14" Pit Barrel Junior has a smaller capacity than the 18.5" Pit Barrel Cooker, it's still superior to the regular horizontal grills on the market. Choose whether you want to cook 6 racks of ribs, 1 pork butt or shoulder, 1 full packer brisket, 6 chicken halves, or a 17lb turkey – the possibilities are endless.
Already own the 18.5" Pit Barrel Cooker? All accessories are interchangeable and will work perfectly with the PBJ, except Hinged Grate, Ash Pan, and Cover. 
*Rubs pictured are not included