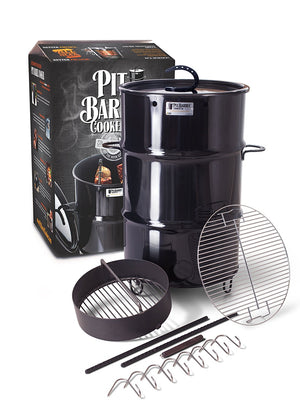 THE PIT BARREL BBQ
Sale price Price $699.95 Regular price Unit price / per
Tax included.
Learn about what makes the Pit Barrel so good.
Hook-N-Hang™ Cooking Method
The PBC is famous for its ability to get consistently delicious results, and it's not by accident. Hanging the meat in the center of the heat allows for even cooking and penetration of a "smoke fog" created by juices dripping directly on the coals. Experts, judges, and food lovers of all ages agree– the PBC simply cooks some of the best food you've ever tasted.
Versatile Grilling
Not all meats are created equal– and not all foods are meats! Every PBC comes with a steel grill grate, not just so it can double as a traditional grill, but to take advantage of the PBC's added depth and temperature control. Want to sear a steak? Cook without the lid to turn up the heat. Or leave it on and let the smoke add another layer of depth to burgers, fish, pizza– even cookies!
(Split grate shown)
Durability (And Style!)
The Pit Barrel® Cooker itself is not only built to withstand the heat conditions of charcoal cooking, but its porcelain enamel coating makes it extremely weather-resistant. Each drum and lid are treated with a superior-grade porcelain enamel finish that gives the PBC not only great looks, but also the ability to last for years.
Portability
If you can't take it with you… it's not a Pit Barrel®! We know smoked meat and BBQ connoisseurs have mobile interests, luckily the PBC is light and compact enough to fit in the back of most vans, trucks and SUVs for easy transport to the campsite or football game.